Ah, Fall is here. It's about time.
I am longing to wear sweaters and warm snuggly boots.
I lust for loud snow, crunchy beneath my boots as I wander our pastures capturing images of worn barns that have fed and housed generations of families and livestock. I love how they look stately holding snow off the charges they house.
I long for chilled fall evenings around the fire holding hands, toasting marshmallows and laughing with family.
It's been a long, hot, wet summer. Before I know it, I know I will be longing for summer days again.
Such is life. We often find ourselves craving what's next instead of realizing what's important is right before us.
Maybe it's age, my time simmering here on Earth, listening and learning. God's way of giving me just enough insight to realize it's time to pay attention.
My dog Moose and I recently took a road trip. Moose is a rotund, eight -year old hound dog that's become a couch potato since he's been confined from running free and hunting at will. He is a great cuddler. I set out on a mission to surprise my mom and family in Connecticut and also give the old dog his first long road-trip.
It turned out we both got so much more from the journey.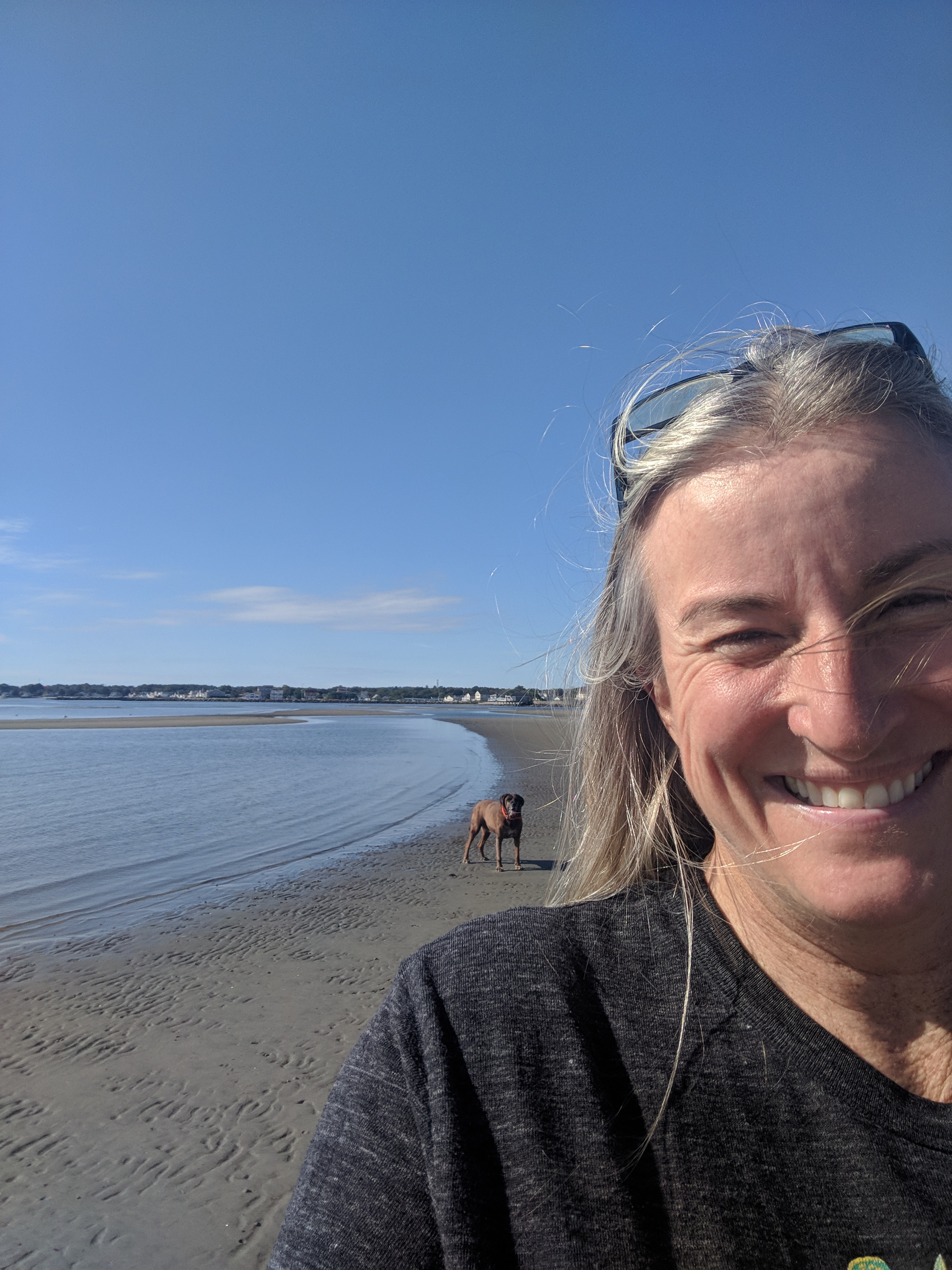 Moose got a renewed love for life. Perhaps it was visiting the beach for the first time. The vast ocean ahead of him, he ran on sandbars and was allowed to wildly chase the birds (an action he is sternly scolded for on the farm).
Perhaps it was a new smell every day from the farmlands of Virginia to the city smells in Philadelphia to the shore smells of Long Island Sound and Cape May, New Jersey.
Whatever the case, I came home with a newly energized dog.
And me? I filled my soul with the sounds of family around the table. I celebrated my mom's 83rd birthday over three separate dinners with nieces, nephews, brothers and sisters, friends that are family and new grand nieces and nephews. It was great to pause and celebrate them all.
It was great fun – just Moose and me – driving familiar roads of my youth; sitting in my best friend's living room where I grew up. There were no locked doors between our homes as kids, whether I was in her house or mine, I was home. Her mom reminded me of the time she was in the tub and three-year-old Michelle opened the door to ask if Alice was home.
"I was sitting in the old claw tub. Do you remember? I said, 'no Michelle, go back home.'" she laughed.
I suppose my three-year-old self-figured I was home. I can still remember plenty of times sitting in their kitchen at the green Formica breakfast table eating snacks while waiting for someone to come home and play with me.
My trip was filled with such memories. And great bear hugs. And laughter.
Next, Moose and I loaded the car with a New England seafood feast and set off for New Jersey to catch up with Danny's family. More laughter. More joy.
And it warmed my heart to have his brother pause to take a family photo, adding that their parents, sister, and brother – would have been proud to see them all sitting around and sharing a familiar feast. Something their mom Janet would have loved. Danny grew up in a large family of cousins and brothers and sisters and aunts and uncles. Through the years, life has taken many of those people from the table and left them only in their family's hearts. They come alive again when they gather at the table. For me, that was another miracle of the journey. I love to hear Dan and his brother tell their sister's girls about their mother Rebecca who died when the girls were young. I love to watch the "boys" and catch a look on their face as a laugh or a glimmer in their niece's eyes brings Becca back to life in the room.
Again, I had a moment of feeling blessed to have so much family to celebrate. I used to think my family was a little on the small side – we didn't often connect with cousins and aunts and uncles. This next generation of Moran's is different. I am grateful for their connection to family – because around the table it is a sight to behold.
My only regret is that my Dad died when I was young and his branch of the family tree became neglected. Some of my fondest memories as a kid was visiting them and playing with the huge Irish Catholic brood my Uncle Pat and Aunt Mary brought into the world. And the startlingly honest and funny conversations I would hear at my Aunt Ann and Uncle Vincent's house.
My drive gave me time to relax and remember all these things. I had time to hear my own thoughts. Now, I am looking forward to pruning and feeding those connections to my Dad again. I look forward to a warm Spring with new buds and blossoms. And as winter approaches, I feel less a sense of loss of another summer and fall, and more a time of celebration preparing for a new year of family and friends; births and deaths; joy and sorrow. No longer will I mark another year gone by with regret, but look forward to gaining more appreciation for each moment, each person, and my own mark on the world.
My only hope is that decades from now, when those I have touched in this life sit around a table to celebrate is that they remember me fondly. I know I will do the same.