We planned to set out early in our usual organized chaos but missed the first three ferries. I wanted to catch the first boat to the mainland and begin our discovery tour. But Danny wasn't stirring, even with my five alarms.
He'd been pretty wiped out since coming to Belize – both mentally and physically. Being pulled from a pattern of 12 hour shift/7 day work weeks for years on end, I think his body began a long journey of decompressing once he landed on the island.
Whatever it is, his mind and body have both been arguing with him for a month now. The first month since being held hostage by me, he simply argued with me. Month two, was a slight relief for me, he spent arguing with himself. While it's a respite for me, it's still pretty unnerving and stressful watching him try to keep himself occupied.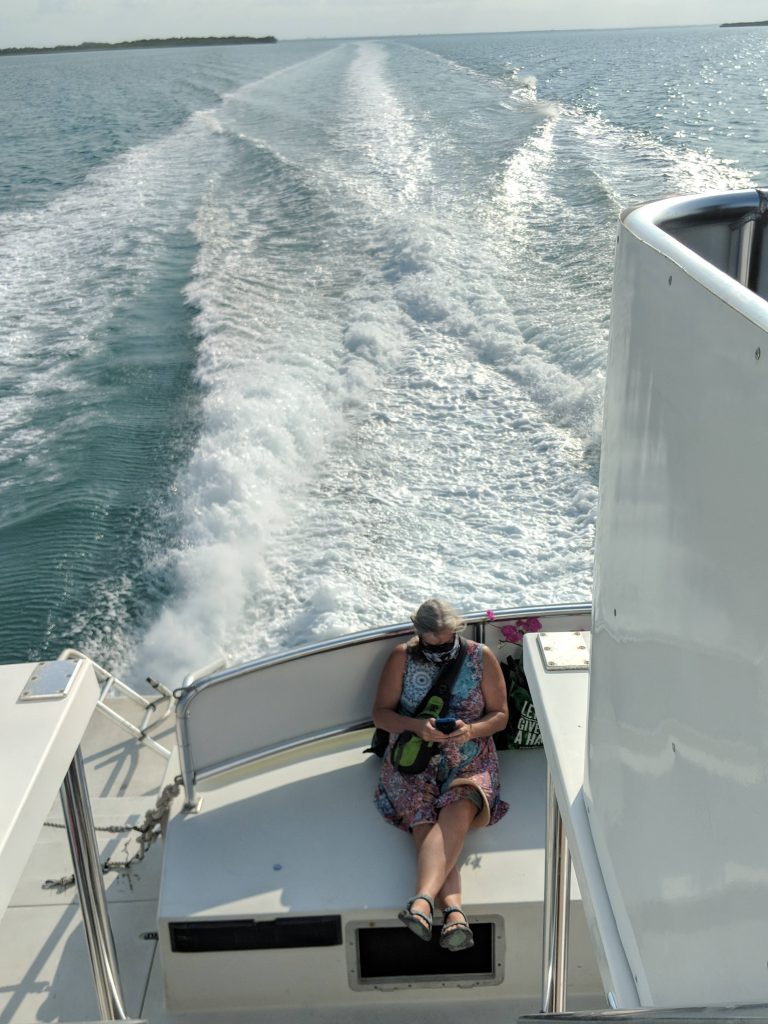 This is where my plan of action came in. I scheduled a detailed trip to Belize's Cayo District. Renting a car to drive inland. Planning stops along the way – the Belize Zoo, a tour of Mayan ruins, canoeing on the Macal River, and bird-watching hikes.
From the start, it seemed I might have overplanned. Danny did not stir through the first few alarms. Usually an early riser, I avoided the temptation to wake him and push him to get moving. I quietly texted friends meeting us at the ferry that we would miss the 7 a.m. then the 8 a.m then the 9….and finally, we would be on the 10 a.m. 
I awoke early and disgruntled with a pain in my arm that just began throbbing as soon as I opened my eyes. When we were both finally moving, Danny let me know my unsettled sleep pattern kept him up all night. I explained my arm hurt, and I couldn't get comfortable, marking off the pain to sleeping on my arm wrong or perhaps injuring myself during the night of flailing.
By the time we reached the San Pedro Express, my arm had begun to get hot, and the swelling started. I ignored it, determined not to ruin the trip. When we were securely on the ferry, I texted the car rental we were on our way.
Car One's owner, Juthy, met us at the ferry entrance; we loaded up and headed to her shop, where we were quickly outfitted in a Jeep Patriot, well-loved and driven, but a sturdy car nonetheless and a great price. They stocked us with a cooler, map, bug spray, and hand sanitizer, and we were off.
We stopped for water just outside Belize City, near Hattieville, just past the roundabout at Dickhead Coconut water stand. Yep, that's the name of the coconut water shop, and it's on my story list this week as we head out for another excursion.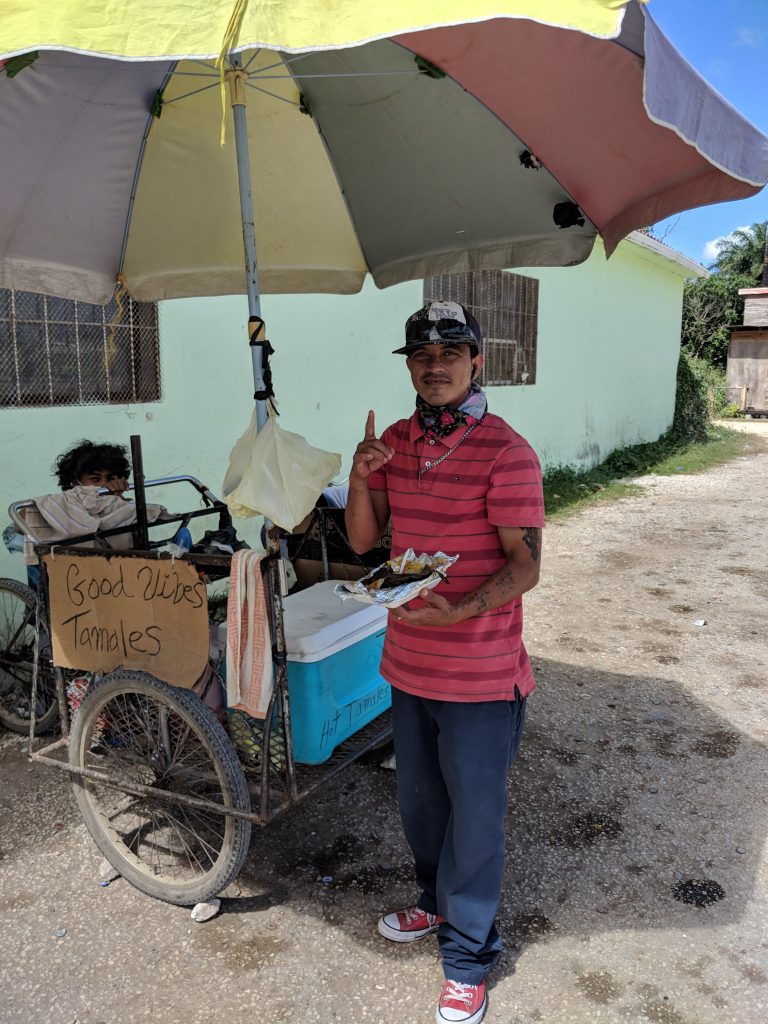 Roadtrip Food: Tamales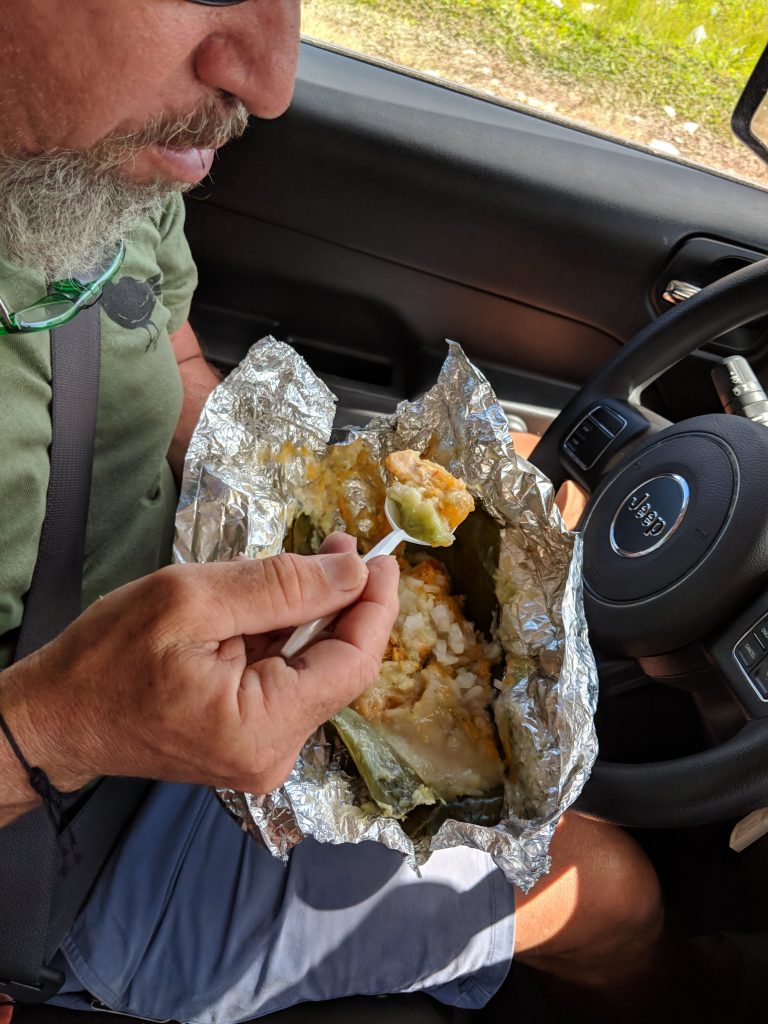 ---
Street Foods
Anyway, our water stop was at a gas station, and just outside the entrance was a small umbrella pushcart. As I got ready to grab some water, Danny handed me some cash. "Get me a tamale, please." 
It's one of the things we love most about Belize; you can find great food anywhere. Some of the best food on the island is in our old DFC neighborhood. Makeshift restaurants of plywood and cinder blocks can serve up the best food and always at unbelievable prices.
But Belizean staples – tamales – can often get Danny into lengthy discussions trying to discern the difference between the varying street food tamales we've been served up, from the banana leaf-wrapped Tamale to the corn-husked Dukunu. It's turned into a mission of his to learn all the variations, along with the study of pupusas.
I hadn't noticed the cart with the cardboard "Good Vibes Tamales" sign leaning on the wheel. I grabbed the water. On the way out, I handed the tamale vendor $3 Belize and, in return, received 50-cents and a piping hot tamale wrapped in banana leaf and foil. As it turns out, Louis, the good vibe of the chicken tamale world, did not disappoint, and Danny quickly devoured his freshly made portable meal.
Momentarily food appeased, Danny started back on the drive with the next quest – to find me a good cup of coffee so we would then both be content in the remaining two-hour drive.
It did not take long to find my joy. Danny spotted the place and spun around. The eye-catching storefront, aptly named Unique Cafe & Restaurant (and home furnishings), is a stylish conjunction of nine shipping containers. These united containers house a coffeehouse, an Asian-Fusion restaurant, a dining garden, and yes, a furniture store with some decidedly modern furnishings – a departure from the handmade hardwood fabrications construction on the Cayes.
Danny walked out to look at the gardens and furniture as I ordered the iced coffee. Amy Wu explained her father, Steve Wu's designs to Danny and me. We sat on chair-after-chair, enjoying the incredible support from the most straightforwardly unique designs. The store opened two months before lockdown, but like most Belizeans, the owners continue to forge ahead with a positive attitude. The place is definitely worth a stop for some fabulous handmade modern creations from furniture to children's toys.
I stepped back into the coffee house to sip my coffee, finishing it before he returned for his cup. I ordered another for the road. 
---
Economic Roadways
A pleasant surprise during the ride was our discovery that Belize is investing in its roadways. Roads have long-been an issue for the country. In particular, on Ambergris, the streets are a constant battle between politics, residents, economics, weather, and unfortunate golf cart leaf springs everywhere.
But the mainland's roads are undergoing a long-term multi-million dollar project. The highways are being widened and paved throughout the country, and bridges are being reconstructed or replaced. The work is a Godsend to Belizeans and tourists alike, making visiting some of the sought-out tourist attractions simpler and benefitting small villages along the route. Now, residents and visitors can discover these spots with ease without relying on flights around the small country (most of which are canceled due to the pandemic). 
The Western Highway and Caracol road projects, which will benefit agriculture and tourism, have also led to clean, newly shaded bus-stops and more visible roadside businesses. Another business we discovered along the way was Gilly's landing, which turned out to be another container restaurant, this time overlooking the Old River in Esperanza Village, Cayo. The "Jus Go Soh" (roughly translated, it's Kriol for keep moving along) road signs were a magnet to Danny, pulling him from the main road, meandering past a local cemetery, a few farm animals, and to a pathway leading down to the restaurant. Aiku (Sunshine) welcomed us to her mother's restaurant named for her grandfather.
The menu was limited due to the pandemic, but like everything in Belize, fresh and made to order. We had a snack –  shrimp ceviche and conch fritters while eyeing the neighboring table's nachos, chicken fingers, and bacon-wrapped shrimp. Portions were huge, fresh, and inexpensive.
---
In Belize, It's the Journey that Counts
We eventually did get to our destination – Chaa Creek in the jungles outside of San Ignacio – but like life, it isn't the destination that tells the story but the journey. And much of what we love about travel is the stops between the planned destination. These are the places where we discover the stories we love most.
We missed a food stand on our way to San Ignacio because it didn't exist until we hit the road three days later back to Belize City. Cut out of the roadside forest and farms; we spotted a little stand with a plume of smoke. We had already passed barbecue after barbecue having our stomachs awakened by the sweet, smoky smell of roasting meats, we knew we needed to stop. 
The final temptation turned out to be David Jones' new barbecue restaurant. His orange spray-painted rings on roadside trees and his rough spray-painted "Taste Budzz" on a nice chunk of wood sitting atop a stack of sprayed orange tires caught my attention.
"Was that Barbecue?" Danny asked.
I replied, "Yep."
We turned around.
Like I said, sometimes the best discoveries are made when you change directions. Chef Dave did not disappoint.
David opened three days before our arrival. He had been building the place when we passed by on our way to the Lodge, pulling water vines from the woods, corrugated tin from old pig pens, bush stick, and wood from an old mill on his mother-in-law's Caracol Farms property. 
Smiling, David explained he, with family and friends' help, pulled the place together with $20 Belize in his pocket and some sweat.
"I just made this place up three days ago. It's all about the hustle," he explained. "Got to find work. It don't just find ja."
It didn't take long before Danny was beside David at the smoker, and the two of them began discussing the ins and outs of properly smoking meats. 
"People are afraid of seasoning," David, aka Mr. Green, said. "It's 50-cents for a bag of salt. I can get wild mint, oregano, and cilantro all over these woods. The first day I had one chicken and a pack of sausage, and I sold out. Each day, I do a bit more."
His smoked chicken was perfect. Crisp skin, moist inside, juices flowing. Probably the best barbecue we've had in Belize, the first smoked with absolute perfection. We had giant plates of rice and beans, smoked chicken, and a well-dressed green salad (Danny always complains when a salad isn't appropriately dressed) for $9 each. David tossed in a couple of freshly cracked coconut waters leaving us the coconut meat to snack on afterward.
His sweet spot, nestled between a coconut orchard to the east and a mango orchard to the west, is a great new addition to the Metzger family's 365-acre Caracol Farm. If you pass by, make sure you stop and tell him Danny & Michelle said "keep hustlin'."
Cheers.
PS. I never did circle back to my swollen arm. Details to come in my story of Chaa Creek.