So it's been a year now since I quit my full-time writing gig. I don't know what I thought when I quit. That I was going to write the Great American novel in twelve months? Great books have been written in less time. Great books have been written in more time. And horrible books have been written in both. I am more of the mind that any book written is better than none. And there is a reader for everyone. Even if it's just your mom.
But I digress. I didn't quit my job to write my elusive novel. But I did quit to focus more on my work at home in Blue Ridge and figure out what I want to do next. So what have I been doing for a year?
Honestly, I have been thinking I should be writing and dreading sitting down to begin. So this is it. No more promises of tomorrow, but a concerted effort to do some daily writing – which should result in at least a weekly post or two.
And, just so you don't think me horribly lazy. I did start our first Farm-to-Table Camp last year and we've scheduled two more camps this year. We also have an intern arriving next month to help grow the farm and its cooking and garden class focus. We are also a couple of weeks away from opening our new Bakery-Market-Café called Blue Ridge Grocery.
The Grocery is a combined dream. One of our favorite places to stroll around is the gastronomic temple that is Barcelona's Boqueria – Mercat de la Boqueria – the controlled chaos of the fish and cheese mongers, stall after stall of fresh produce forming a rainbow of beauty alongside whole animal carcasses awaiting the skilled hands of the butcher to fabricate the perfect cut to take home and prepare the daily meal. It is a place that begs for daily shopping, daily cooking – celebrations of where our food comes from – a place to not only taste, but to see and touch and honor.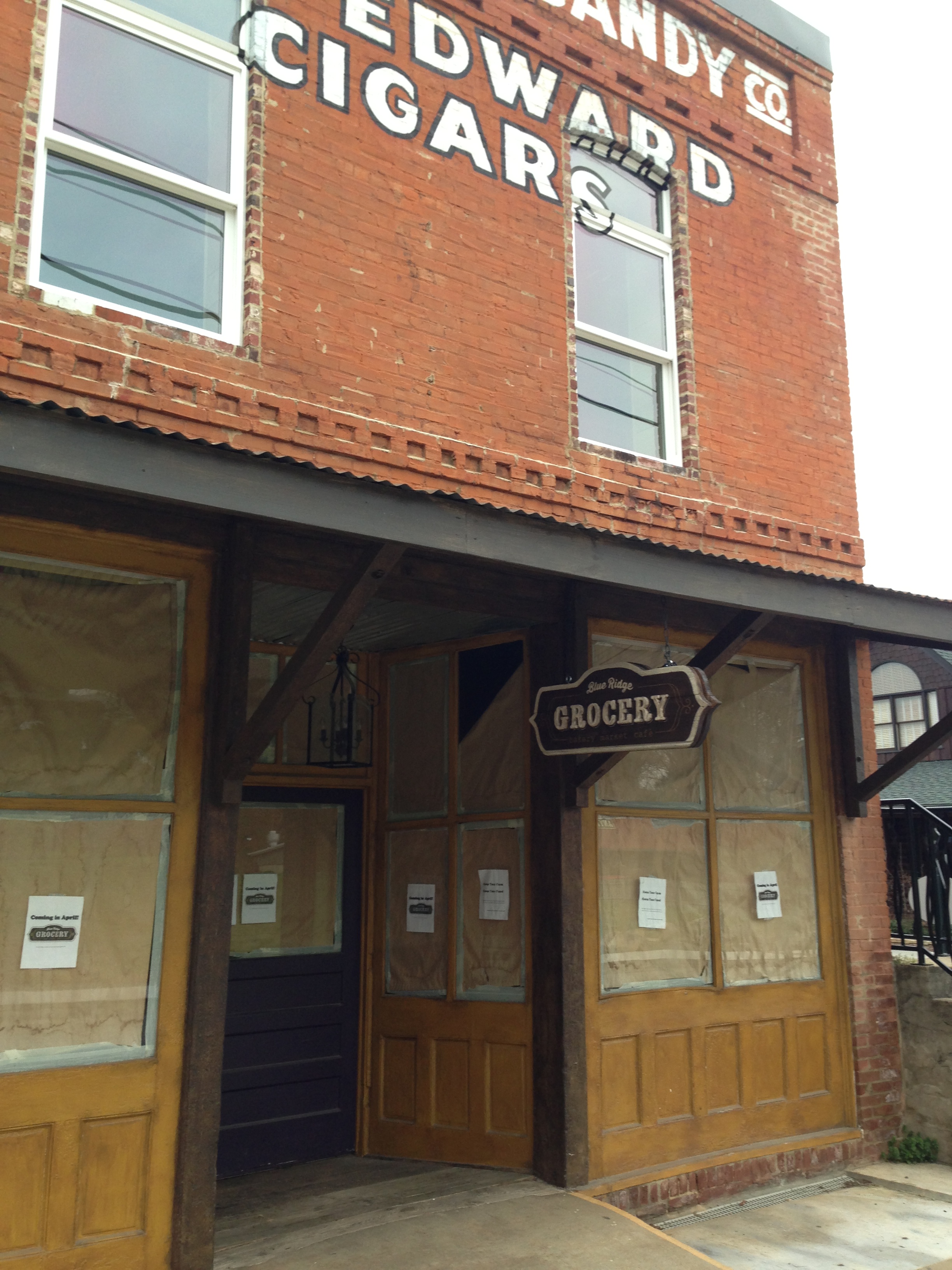 That's the kind of place we've always wanted to open and revel in the bounty the earth provides to sustain us ­– a humble homage to the farmers who grow and graze our meals; a home for the artists who craft their works in cheese and meat and bread. And so we've built our own tiny translation, staffed it with a fabulous baker and a crazy pal who loves coffee as much as we do (these are actually two different but oddly similar women), and they'll be serving up breakfast, lunch and snacks.
It's been said we've been vague on our response as to what exactly is going in to the grand space we've leased – the old Cigar Shop next door to Harvest on Main – it's not deliberate ambiguity. The Grocery is a work in progress. It will open with breakfast items, freshly made sandwiches waiting patiently to be chosen and pressed for service, alongside fresh salads (some traditional, some not-so). We're kicking off with a Community Supported Agriculture (CSA) program bringing a diverse selection of fresh, Appalachian-grown product to town for weekly pick up; fresh flowers from a local farmer; fresh from-scratch bread and pastry baked daily; locally roasted coffee; and our own house cured meats and pickles. And there is room for so much more – we've packed a lot into a tiny space. But there is so much more to reveal we just can't contain ourselves.
Anyway…so that is what's been goin' on.
Cheers!