This New Year brings us exciting news. We worked to create a vision for the next 10 years for our company and part of that was building our restaurant properties to a place where we could own the land beneath our business. Along with that goal, comes many other desires for both creating a place where our staff can learn alongside us, and a place where our guests can come and relax for more than a meal.
As we were working on these concepts, an opportunity arose. Our friends Isabella and John Molinari decided it was time for them to take a break from the business. We've known them for more than 20 years. We all operated restaurants on the same small island in Florida decades ago.
When we first bought a second home in Blue Ridge nearly 15 years ago, we were excited to be able to escape to such a beautiful place. The only thing lacking in our visits was a food scene in the county. But we were happy to relax and cook at home.
After a couple of years of traveling to town from Bonita Springs, Florida, my friend Lisa Mitchell told me about a new restaurant. It was Valentine's Day and I wanted to surprise Danny with a dinner out. I must admit I smirked when she told me I needed reservations in Blue Ridge!
But I jotted down the name of the new place – Cucina Rustica – and I called for reservations when I got back to the cabin. This loud New York voice came on the phone. I started to spell our last name M-E-L-L-M-A-N … 'What!" the voice on the other end said. I started to spell it again and he interrupted, "Mellman? Danny Mellman." I handed the phone to my husband and he and John began one of their normal loud conversations back and forth.
And that was that.
Dinner, of course, was fabulous. And whenever we got to Blue Ridge without the kids we'd stop in and grab a bite.
After a few years, we sold our restaurant in Florida. I told Danny he had to take three years away from restaurants. I continued running the magazine group I worked with in New York, and Danny began writing, traveling and catering. And then his restaurant bug came back.
You can't keep a chef out of the kitchen.
Many of you know our story. Danny wanted to open again in Naples, Florida. I wanted to move to Blue Ridge. Somehow, my prayers were answered and our friends Randy and Janice Durden offered us the opportunity to create a restaurant downtown. And Harvest on Main was born.
Never, in my wildest dreams, did I think I would somehow become so involved in Danny's business. Now, our businesses.
Never, did either of us imagine we'd be creating the vision that we now have for our restaurant group, our staff, our family and our community.
But here you have it. John and Isabella have decided to retire (I am sure for just a moment or two) and we have been blessed with the opportunity to adopt their restaurant babies and add them into our growing family.
As of Jan. 4, 2017, Cucina Rustica and La Pizzeria are now part of the Lit'l Pond Hospitality Group – joining their sibling restaurants – Harvest on Main, Masseria Kitchen+Bar and The Blue Ridge Fry Shop. Along with our 30-acre farm, the new property completes one portion our Vision 2027 plan.
We are excited for John and Isabella. We are excited for our Group. We are thrilled to be continuing the traditions that John and Isabella have created both at Cucina Rustica and La Pizzeria at Cucina Rustica – from great food, to great family to great fun. They have created a destination and we are so inspired to be building on their vision and traditions.
As fate would have it, we had also planned a trip to Italy with our Partner-Chef Ryan Beadnell to learn more about pasta, cured and aged meats, and traditional methods. We hope to inspire Ryan with the sense of place we feel when we are in Europe. We want him to find motivation in the emotion of days spent immersed in Italian life. We look forward to bringing all this new knowledge back to our group.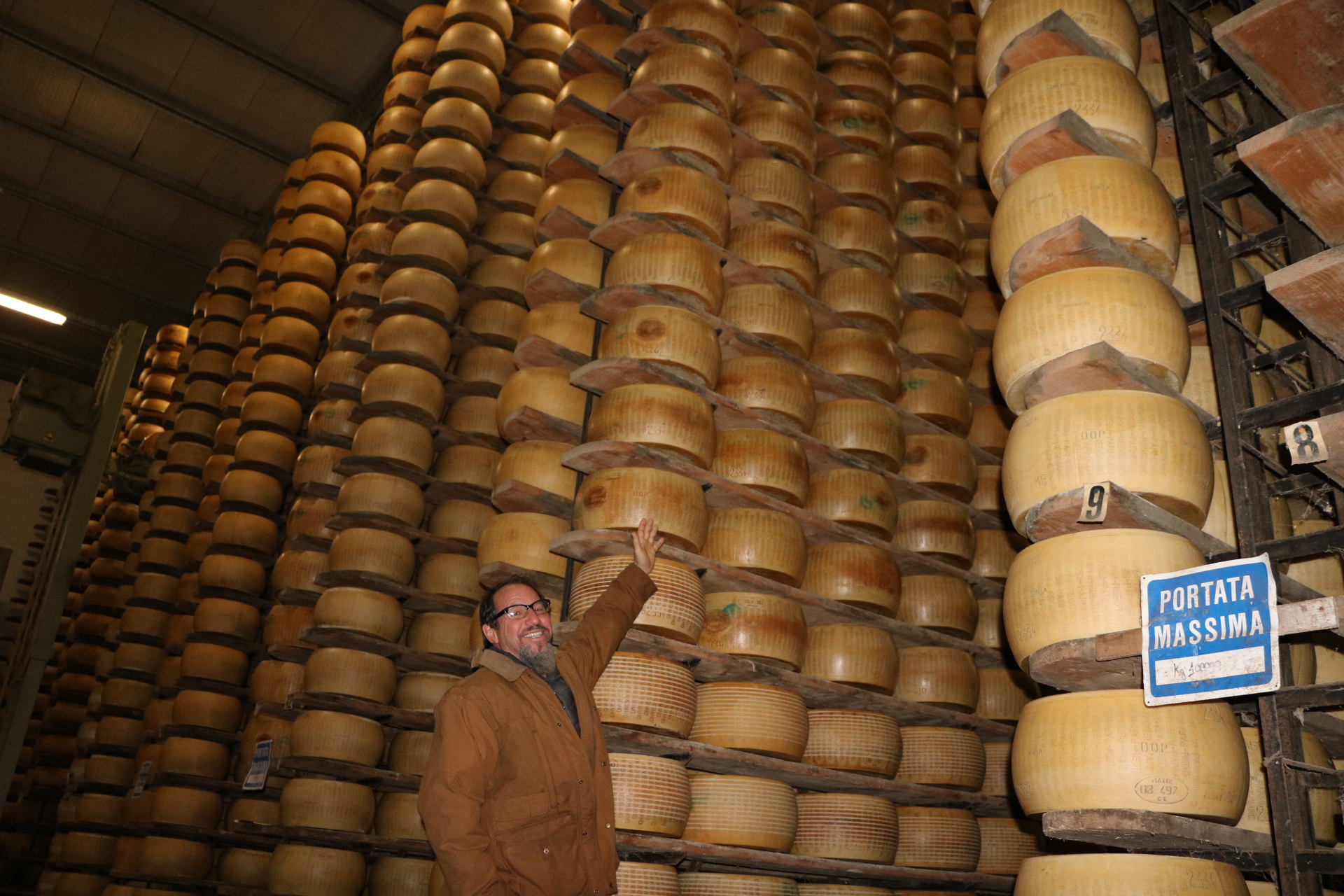 And so, it is from a coffee shop in Parma, Italy that we write this note. It's still crazy to imagine that just a few short days ago, we closed on the purchase of two new restaurants and then boarded a plane to Italy. Crazy and nerve-wracking juggling whether to stay open or close with a snowstorm headed toward our businesses. Fielding calls and e-mails, coordinating the call to close up shop and preserve the safety of our precious staff at all our locations.
What a whirlwind.
And so, we pause here in Italy and think of Isabella and John. We hope the snow gave them a chance to stop as well. I hope they are relaxing at home sitting by the fire celebrating the fact they don't have to shovel the driveway to the restaurant or call all the staff.
We hope that all our guests and friends in Blue Ridge are as excited as we are about our new family members. We hope the loyal friends of Cucina and La Pizzeria are thrilled for Isabella and John, and have no anxiety about our new role in their former business. We want only to continue what they have started. We welcome your advice, your friendship and your ideas. We are excited to have the Molinari's talented staff join our team and we cherish each of them as well.
And with that we want to share with you part of our Vision 2027, to give you a sense of what we envision. The vision is what we see for ourselves and our business group 10 years from now. Cucina and La Pizzeria will live and grow where they are now on a property we have named Terra Madre:
Blue Ridge itself has continued to grow and developed into a creative landscape of food and art. There are breweries, wineries……. The train continues to entertain, but a wealth of additional outdoor and indoor attractions have come to fruition that continue to build and strengthen the economy of the region. The old town main street continues to thrive along with the outdoor adventure area- but the food and art scene is building and driving the new growth and customer-base.

Terre Madre is the center of the energy. Our properties evoke a sense of place. Our central location is reminiscent of a small, town center with gardens, chickens, bees and entertainment. Guests come for the experience of not only great food and great service, but to connect their food to a sense of place.
And that is what we see for ourselves, for our business family, for the county, and for all of you – our friends.
Cheers!
Danny, Michelle & Ryan